Tamanawa is the newly elected Student Council President of Kaihin Sougou High school. He is a 2nd year.
Appearance
In the anime, Tamanawa is seen wearing the uniform of Kaihin Sougou High school that is composed of a white dress shirt, a light blue sweater with two dark blue lines at the top, and a red tie under a navy blue blazer and pants.
Personality
Tamanawa is a somewhat pompous person, who often uses complex English words in some of his sentences. Hachiman observed that he uses many similar meaning words (synonyms) in English and Japanese in quick succession.
Hachiman and Yukino note he just likes to be in charge and lacks any real ideas or convictions.
Hachiman also feels that neither Tamanawa or any other student council members wanted to take full responsibility of the Christmas concert because of a fear of failure. Tamanawa comes across as really indecisive and unable to manage time well.
He seems a little dense or stubborn, when Hachiman tries using Tamanawa's own lingo to progress the Christmas Collaboration meetings he still wouldn't commit to anything. It's not until Yukino directly addresses his inability to act do they start to get things done.
Although Tamanawa wont commit to any one idea for the Christmas Event, he is eager to involve and please as many people as possible. Indicating a rather sociable side as he happily welcomes new members such as Hachiman, Yukino, Yui, and the elementary school students.
Tamanawa is likely a popular figure in his school, since he was elected as president of student council. He also managed to recruit his own friends like Kaori Orimoto to come and help.
Abilities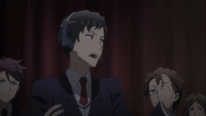 He isn't a very experienced leader and is very indecisive, however, he is able to rally allies to his cause, showing skill in charisma. His friends and fellow council are almost blindly attached to his ideas and rarely disagree with him.
He has an impressive vocabulary of English and Japanese business words that he uses often.
Tamanawa has good communication skills with the exception of his complex words that often confuse others.
Tamanawa was seen capably directing his staff during the Christmas Event's play.
History
In Volume 9, it is stated by Kaori that Tamanawa was only elected as the student council president in the fall/autumn, which is why he's not very experienced.
Plot
Volume 9
In spite of the fact that Kaihn Sougou High was the one that proposed the idea of having a joint Christmas event, Tamanawa seems to be in fear of causing the event to fail.
Tamanawa wants to make the event huge and involve lots of performance aspects. He initially accepted any suggested ideas, but would never plan how to put any of the idea's together.
He along with his larger student council group lead/dominated the Christmas meetings which intimidated Iroha and the Sobu Student Council. Every time something was agreed on he would ask Iroha to handle it. She would never refuse because she didn't want to be a hindrance. He made Iroha and Sobu's Council do all the paperwork, decorations, sourcing volunteers, and handling of elementary students.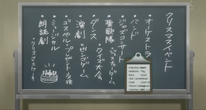 Tamanawa focuses on increasing the scale of the event without considering time, money and labour. He was focused on only having meetings and brainstorming sessions without setting anything in stone. Realizing that direct objections to Tamanawa's plan were getting rejected or ignored,
Hachiman
tried using his own lingo to communicate they were running out of time. When Hachiman tries using Tamanawa's own lingo to progress the Christmas Collaboration meetings he still wont commit to anything. It's not until
Yukino
directly addresses his inability to act do they start to get things done.
The dejected Tamanawa and Iroha agree on a much smaller event than he had initially wanted. They decided to split the work with Kaihin Sogo planning a musical performance, and Sobu would help the elementary school kids perform a play.
According to Kaori, Tamanawa became fully spirited and motivated to "win", as if they were competing against Sobu High's performance. Tamanawa begin to take his responsibility seriously after splitting the planning in half with Iroha. Together they managed to have a successful event in spite of the lack of rehearsal and a reduced budget.
Volume 11
Tamanawa accepted Iroha's offer to co-sponsor a Valentines day baking event. He proclaims it's beneficial to their partnership and alliance. It is mentioned that Iroha is just using him to help Sobu's budget in hopes of saving money and perhaps pocketing some herself.
He is still talking with his almost nonsensical Katakana/business lingo.
He is having a good time with friends from his student council until he notices Kaori talking to Hachiman and the Service Club who arrive late. Even though he appears bitter over what happened at the Christmas event, he still greets the Service Club.
During the Valentines event, Kaori offers to make Hachiman some Valentines chocolate Tamanawa is visibly shocked in the anime, and in the novel he makes a loud coughing noise and exhales deeply. Later when Kaori gives Hachiman her chocolate they are interrupted by Tamanawa. Kaori awkwardly offers him some too. Tamanawa then gives Kaori a chiffon cake he made for her. She seems confused and disinterested but thanks him and heads back to the Kaihin Sougou group. When alone with Hachiman, he remarks that next time, they do this fairly, and then walks away. Hachiman replies that he's not interested in Kaori, but doesn't think Tamanawa heard him.
Relationships
Kaihin Sougou High School
Tamanawa was elected the as Student Council President so he must be liked to some extent by the students.
Student Council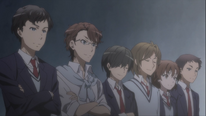 Tamanawa gets along with his fellow student council members. They show an unusual loyalty towards him as they enthusiastically agree with him unquestioningly. His school has a large student council and many volunteers in the planning committee. They all enjoy talking with the same businesslike lingo. In Volume 11 they are seen enjoying listening to Tamanawa tell a story.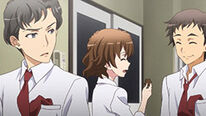 It is hinted that Tamanawa has feelings for Kaori. In Episode 12 (Volume 11) he is seen visibly irritated when Kaori promises to give Hachiman some valentine chocolate and when she shared chocolate with another boy from their school. In Volume 11, he gave Kaori a cake to her confusion. He mentions in foreign places the men give chocolate on valentines day instead. Kaori was confused and disinterested but remarks that it was delicious. He is also upset with Hachiman for his "unfair" courtship of Kaori.
Kaori mentions to Hachiman during the Christmas event that she isn't on the student council, she is just helping "a friend". It is likely Tamanawa asked her to participate.
Sobu High School
As fellow student council presidents, they maintain a good working relationship at least at face value. At first Iroha accepted any demands Tamanawa might have. This changes after the Christmas Event. However, Tamanawa maintained a good relationship with her. He was happy to accept Iroha's offer for the joint-Valentines Event. Unknowingly Iroha is just using him to lighten Sobu school's budget and as a form of labour.
Tamanawa tried to be cordial with Hachiman when they first meet. However, Hachiman ends up being disliked by him after he criticized Tamanawa's work methods during the Christmas event.
When Hachiman and the Service Club arrive at the Valentine event, Tamanawa, still bitter over what happened at the Christmas event, greets them coldly. He is also displeased when seeing Kaori's "closeness" to Hachiman. He is likely unaware of the pair's past history, as he didn't inquire on their relationship. He was also jealous when Kaori offered Hachiman some Valentines chocolate.
Later, Tamanawa promises Hachiman they will have a fair challenge next time (regarding Kaori). Hachiman tried to explain his disinterest or standing towards Kaori but Tamanawa had already left and didn't hear him.
At first, Tamanawa was enthusiastic to have more help for the Christmas Event. His opinion sours when Yukino openly criticizes his actions (or lack thereof) during the event. He is just as irritated to see Yukino as Hachiman when they arrive at the Valentines Event, though he hides it to maintain appearances.
Quotes
Trivia
The running gag is every time he speaks, he makes swift, odd hand movements.